Hewlett Packard Enterprise (HPE) South Africa has appointed Sandile Dube and Tumi Kgonare as its new sales and channel manager and distribution team Lead respectively.
 The world has been caught off guard. The pandemic is in every conversation, sits at every board room table (video conference), and defines how continent and country look to an uncertain future.
The recent months have likely been the biggest challenge for all organisations across the continent. With almost no warning, millions of businesses – indiscriminate of size or stature – suddenly went from operating as usual to facing enormous challenges under the weight of uncertainty.
LG Electronics has introduced the LG V60ThinQ 5G to South Africa, featuring 5G connectivity, upgraded audio, video and photo capabilities and updated software experiences.
Ideas that begin as lockdown coping strategies can also revolutionise your business. Netstar MD Pierre Bruwer shares some of his organisation's learnings from the pandemic.
Kathy Gibson reports – Microsoft has launched a new online learning ecosystem to help 25-million people upskill and reskill themselves, achieve certification for in-demand skills, and find jobs.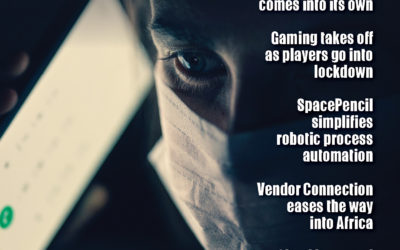 Mobile computing comes into its own, while gaming takes off as players go into lockdown. SpacePencil simplifies robotic process automation and VendorConnection eases the way into Africa.