The Lenovo Data Centre Group (DCG) has taken its product line from also-ran to pack leader in just four years.
With an impressive 141 top-performing benchmarks as of June 2019 (see following article), Lenovo DCG is justifiably proud of the strides it has made.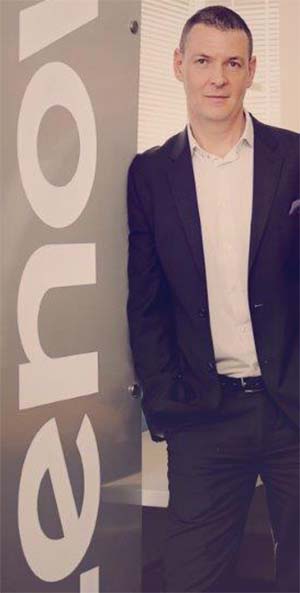 Jim Holland, country GM: Lenovo DCG, points out that the product quality is showing dividends in market share. "In South Africa, we have held the number two position for market share for three quarters in a row – this is a significant milestone," he says.
The success of the South African operation comes at the same time as Lenovo DCG celebrates seven quarters of doubling its global market share in software-defined infrastructure.
"The benchmarks and market share wins show that Lenovo is the top vendor when it comes to reliability and customer services – as well as a host of technical wins. All of these significant achievements have been made in the last four to five years, and demonstrate the company's commitment to quality."
Although its foundation is as an X86 server manufacturer, Lenovo has also made huge strides in its storage solution portfolio.
"We were addressing just 25% of the storage market a year ago, but that has shifted up to more than 90%," Holland says.
This massive portfolio growth is on the back of Lenovo's OEM agreement with NetApp. "This is a super-OEM agreement, not just a rebadge," Holland says. "It means the storage solutions, with NetApp, are manufactured and supported by Lenovo; and built on the Lenovo platform."
Today, Lenovo is winning new customers with its entry-level DE storage range and the high-performance all-flash DM storage offerings.
"We can now address any need in the market," Holland says. "Whereas before we might have been excluded from deals because we didn't have a storage solution, we can now give our customers a full solution.
"And the XClarity management tool gives customers a single pane of glass into both compute and storage layers."
The new storage offerings have been available for the last 10 months, and Holland says they are already driving a change in the DNA of the business.
"Instead of always leading with compute, we are now able to change the discussion, and can approach any customer with a solution to their specific need – whether compute or storage."
Having a complete leading product offering is just the start for Lenovo DCG, Holland says. The company is significantly expanding the reach and resources of the local operation, and investing heavily into its partner channel.
The channel team has been extended to the coastal region; there's a new storage head on board; and Lenovo DCG in putting a whole new focus on technical capability and support.
"What we are saying is that if we take the best solution to market, we have to make sure we are supporting it properly. So we are focusing heavily on building capacity in our services organisation so it is much closer to the rest of the team.
"I am intimately involved in the services business, which we are focusing on as a strategic area."
Lenovo received the SAP Platinum Award in 2019, and the our solutions are the platform of choice for SAP. "This is an area where we are focusing heavily and have recently acquired new customers in this space," Holland says.
Superior technology, a solutions focus, and value-added services all add up to a compelling value proposition for the channel. "We are driving for new business, with new customers and new partners," Holland explains.
"We need to make sure we are offering our existing customers great service, but also work on driving new business.
"To do this we need to supply great kit, and also make sure our partners are enabled. So we are making big investments with our partners into skills."
Lenovo DCG encourages resellers to skill up as Authorised Service Partners (ASPs), so that the right partners can benefit from services opportunities and spin-off revenue.
There are a number of ASPs in the South African, SADC and Indian Ocean Islands countries where the company is represented.
"This model is working well for our partners," Holland says. "We don't ever want to be an inhibitor to our partners' success, but rather to be an enabler. We have to make sure that the interactions our partners have with Lenovo DCG are profitable, because that will allow them to invest in skills and infrastructure."
Lenovo DCG is also driving a robust rebate programme that focuses across the Thinksystem and Thinkagile solutions spectrum.
"We want to make sure our partners are as profitable as possible by understanding our rebate programme and focusing on areas where they'll get maximum benefit," says Holland.
Lenovo is and will remain a channel-first business. "Locally, I'm proud to say that 100% of our business is done through the channel.
"Expect to see an expansion in our Lenovo brand building and our commitment to the channel and our partners, to grow the Lenovo awareness as a data center provider to small and mid-market customers," Holland says.
"We believe that our success is because of the channel and we want them to get the most benefit from working with us.
"We do engage with customers – it's important we have those relationships – but we will never sell or fulfil directly. Our goal is to enable our partners to be profitable, supporting them with pre-sales, post-sales and services."
This support comes down to a customer-centric mindset and solid relationships, Holland says. "We have to be out-servicing our competitors. There is no doubt that we have the best solutions; and we have to back them up with service.
"We also need to have one-on-one relationships with our partners, giving them a direct link into the organisation, and I drive that hard myself."
Moving forward, Lenovo DCG continues to bring innovative and industry-leading products to market.
The group plans to build out the largest edge server and smart Internet of Things (IoT) portfolio in the industry, alongside its growing list of vertical end-to-end solutions.
"In the future, a lot of data processing will sit out at the edge of the network and we will be addressing that with our IoT solutions," Holland says.
Lenovo leads the pack
Lenovo servers hold a massive 141 world records as of 1 June 2019.
These include 86 new number one world record benchmarks, plus 51 current ThinkSystem world records with the first-generation Intel Xeon Scalable processors, and four world record with the previous System x servers.
The 86 new world records is more than double any other server vendor in the market. The 141 total world records is more than one-and-a-half times any other server vendor in the market.
Big data analytics – The Lenovo ThinkSystem SR950 and SR650 servers delivered 32 new world record big data analytics benchmarks. These include four new world records for four-socket performance on SAP HANA (BWoH); 17 for four-socket performance on STAC-M3; and 11 for two-socket performance on STAC-M3.
Business processing – The Lenovo ThinkSystem SR950 and SR650 servers delivered three new world record benchmarks for business processing. These one on Windows for four-socket performance on SAP Sales and Distribution (SAP SD) benchmark; and two for two-socket performance in the TPC benchmark.
Infrastructure Virtualisation – The Lenovo ThinkSystem SR950 and SR650 servers delivered three new world record infrastructure virtualisation benchmarks. These were all for four-socket performance on SPEC Virt_SC 2013.
Server-side Java – The Lenovo ThinkSystem SR650 and SR950 delivered 27 new world records for the SPECjbb server-side Java benchmark. These include six for eight-socket performance; four for six-socket performance; four for four-socket performance; four for three-socket performance; five for two-socket performance; and four for one-socket performance.
General computing – The Lenovo ThinkSystem SR950 and SR650 servers delivered eight new world record general computing benchmarks. They include, for SPEC CPU2017, one for eight-socket performance; one for six-socket performance; and four for three-socket performance. For SPEC Power, they include one for one-socket performance; and one for eight-socket performance.
Technical computing – The Lenovo ThinkSystem SR950 and SR650 servers delivered 13 new world record technical computing benchmarks. They include a new record for three-socket performance on SPECompG 2012. For SPECmpiM, they include six for two-socket performance; one for three-socket performance; one for six-socket performance; and one for eight-socket performance. On the SPEC Accell, the ThinkSystem SR650 delivered three new records for two-socket performance.
ThinkSystem SR650 and SR950
For medium to large enterprises, and managed and cloud service providers, the Lenovo ThinkSystem SR650 server is the optimum 2U, two-socket server. It's engineered to deliver high performance with 205W CPUs, low-latency NVMe drives, and high-power GPUs.
With Lenovo's history of reliability, the highly flexible and configurable SR650 is the ideal platform for hyper-converged infrastructure (HCI) or software-defined storage (SDS). It provides a solid foundation for:
Transforming physical resources into services, using validated designs for hybrid cloud;
Performing analytics on streaming data, using validated designs for big data; and
Increasing productivity of virtualised transactional systems, using validated designs for OLTP databases.
The ThinkSystem SR950 server is designed for the most demanding, mission-critical workloads, such as in-memory databases, large transactional databases, batch and real-time analytics, ERP, CRM, and virtualised server workloads.
The powerful 4U ThinkSystem SR950 can grow from two to eight second-generation Intel Xeon Scalable Family processors, and with 96 DIMM sockets, and supports up to 24Tb of high-speed memory without having to replace the server enclosure or upgrade to a larger design. The modular design of SR950 speeds upgrades and servicing with easy front or rear access to all major subsystems.
The SR950 packs numerous fault-tolerant and high-availability features into a high-density design. it offers enterprise scalability and advanced RAS features, while a new 4U rack-optimised design reduces the space needed.
The ThinkSystem SR650 and SR950 also support Intel Optane DC Persistent Memory delivering a new, flexible tier of memory designed specifically for data centre workloads.
This technology will have a significant impact on real-world data centre operations: reduction of restart times from minutes down to seconds, 1,2-times virtual machine density, dramatically improved data replication with 14-times lower latency and 14-times higher IOPS, and greater security for persistent data built into hardware.
Lenovo XClarity Controller is an all-new hardware embedded management engine common in ThinkSystem servers. XClarity Controller features an uncluttered graphical user interface, industry-standard Redfish-compliant REST APIs, and enables booting in half the time of prior generation servers, with up to six-times faster firmware updates.
Lenovo XClarity Administrator is a centralised resource-management solution designed to reduce complexity, speed response, and enhance availability. XClarity Administrator lets define and control pools of infrastructure from your choice of interface, including an intuitive web-based GUI, XClarity Mobile app, Windows PowerShell, Python, or using your own external IT applications by running XClarity Integrator software or integrating with open REST APIs.