Lenovo has launched a new Partner Hub, streamlining the way it works with partners, and making it easier and quicker for resellers to do business with the vendor.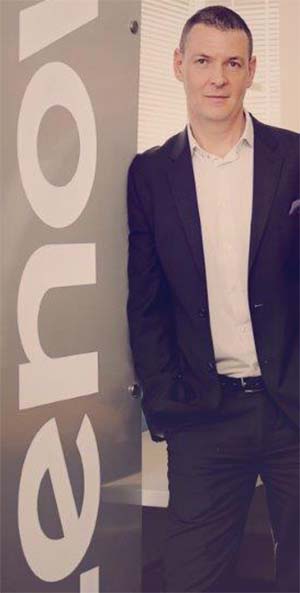 Jim Holland, regional director for Lenovo Data Centre Group, unpacks the platform and talks about how partners will benefit.
Why was the new Partner Hub established?
The Lenovo Partner Hub signifies the next step in our digital partner transformation programme, making it easier and quicker for partners to conduct business with Lenovo. For the first time, the Partner Hub brings together a suite of tools under one roof – making it easy for partners to get the right information at the right time – ultimately driving theirs, and our business. The hub offers complete E2E sales engagement in the interests of collaboration, not competition.
What is its function?
The Hub offers complete enterprise-to-enterprise sales engagement to promote collaboration and greater synergy between ourselves and our partners.
It combines incentives, rewards and promotions – ranging from Starseller (for Lenovo PCSD Group) and LEAP for (Lenovo DCG), in addition to other operational tools to allow customers to validate and process orders. The experience with the Lenovo Partner Hub is personalised based on the partner type. Users can now be defined by the role they play within an organisation. For example, users can be allocated as a sales rep, sale manager, marketing or admin persona. Each persona will give access to dedicated resources and a personalised experience with performance dashboards.
How does it tie in with any existing partner portal or programme?
Our Partner Engage programme is the bedrock of the new Partner Hub – and it's the one programme that brings together both PC & Smart Devices and tour Data Centre operations.
Applications to join our programme, will be routed through the hub – it's a five-minute application and we've made the commitment to processing those applications within two days.
Whether our partners are focused on selling Lenovo PCs, Data Centre solutions or both, it's easy for them to grow their business with Lenovo. Two distinct partnership options and clearly tiered levels make it simple to specialise or sell the entire portfolio. Which level of partnership they are eligible for depends on two basic qualification criteria: annual revenue thresholds and Lenovo product training modules or product certifications. Once our partners have signed up, they can migrate between levels.
How does it benefit partners?
The Partner Hub is a one-stop shop for all of Lenovo's PCSD (PC and Smart Devices) and DCG (Data Centre Group) channel partners, facilitating channel growth across three key focus areas.
First, it provides a better experience, by enabling partners to speed up the sales process, with resources provided at the point of need. Secondly, it ensures better results by storing all information in one centralised place, promoting faster response to opportunities, and ultimately helping to win more deals. Thirdly, it provides better functionality – with more dynamic tools, such as our comprehensive product catalogue and our enhanced Lenovo Bid Platform.
Our end goal is to improve the partner experience – elevating productivity and speeding up sales to accelerate revenue growth and profitability. How we achieve this is through having instant pricing for small and medium-sized businesses and midmarket deals, accelerated turnaround of deal registration and new customer bonus and acquisition bonus requests, in addition to faster turnaround on rebate payments.
Additionally, the Partner Hub enables a dramatic reduction in turnaround and increase in claim automation. Collectively, these features promote a channel strategy which is more agile in nature, to meet changing consumer demand for care and service round-the-clock.
When does it goes live?
The new Lenovo Partner Hub went live on the 27th July and is open to all Lenovo authorised partners and their employees.
How can local partners sign up/join the new hub?
All Lenovo authorised partners who were registered with Lenovo will automatically be onboarded to our new platform.
What changes have you seen in the data centre market this year?
As has been the case for most, under the current operating conditions, the data centre market has been met with a few challenges.
For many organisations, job and capital preservation has had to be a focus and this understandably, has taken precedent over other expenditure. For others, infrastructure and systems have been optimised and sometimes redeployed in order to cater for changing business demands; as a significant number of businesses have had to redefine their business models.
There are however a few areas that we were able to address for our customers, one of which being increase in demand. One very successful compute solution is our move to the edge with our SE350 edge server  in order to best optimise performance on the edge. As has always been the case, our robust solutions are adapting to provide our customers with the best possible solutions for the best possible outcomes.
What challenges are local partners facing in the current circumstances?
This year, businesses have faced multiple industry-wide factors that have impacted supply and manufacturing; including ongoing geo-political uncertainties, component supply shortages, currency exchange impact, and the global COVID-19 pandemic.
Additionally, our channel partners are faced with the prospect of having to engage with audiences in new ways. Even now as restrictions ease, and our lives slowly return to 'normal', the viewpoint of the end-consumer cannot be overlooked. For example, some are comfortable with returning to public spaces, while others are still hesitant. This means that we have to think about how we continue to interact with the same, and new audiences, in more impactful ways – by leveraging the power of digital.
And how is Lenovo helping them to overcome these challenges?
By working together with our partners. This may mean leveraging collaboration tools to provide information and assistance over voice and video call or interacting with brands such as ours through live streams, and sales through social media.
For those who are willing to visit retail stores and have physical interactions, reassurances are also required. The end-consumer needs to know that the right procedures have been put in place. Beyond social distancing, this includes best practice when it comes to health and hygiene, such as frequently cleaning products, so that customers can explore them fully while maintaining peace-of-mind.
Every business has had to adapt, and while some sacrifices have been made, other areas have been improved. The conversation must now evolve from how we adapt in times of adversity, to how do we create a new normal, in which we leverage the best of physical and digital interactions to enhance the customer experience.