Graham Duxbury has been inducted into the South African Hall of Fame.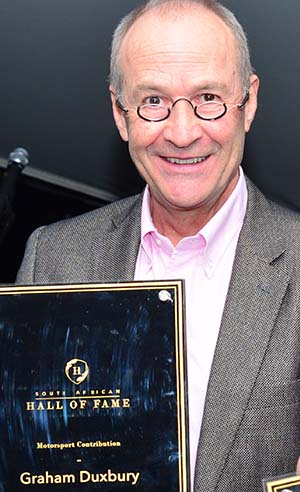 Duxbury is one of South Africa's best loved motorsports commentators, a South African Champion and winner of the Daytona 24-hours.
He has had many international motor sport successes – in the UK, Europe and the US – and also delivered a series of impressive race and championship winning performances in South Africa during the 1970s.
Although he might be better known today in motor sport circles as a Formula One commentator on SuperSport, Duxbury is a motor sport legend. He famously won the 1984 Daytona 24-hour sports car race with Sarel van der Merwe and Tony Martin in an all-South African team.
Graham was chosen to drive for the South African Kreepy Krauly-backed team to race in IMSA Camel GT sports car series in America in 1984. Under the leadership of Ken Howes, the team memorably triumphed in the Daytona 24-hours.