It's the time of the ear again when Channelwise's Three Wise Men (and a Woman) huddle together over their tea and biscuits to decide who they think are the most influential executives in today's channel.
Over the years, many of the candidates have been what punters would describe as "shoo-ins" for nomination but, as witnessed in the following pages, there are some noticeable absentees. A couple of regular faces in this feature over the years – notably Arnold Fourie and Paul Conradie – have withdrawn from the day-to-day running of their companies due to ill-health or semi-retirement and were therefore not considered. Others, like Atul Gupta, have passed on the daily grind at the coalface to other senior executives as they concentrate on their other businesses.
Which leads us to the criteria and format The Three Wise Men (and a Woman) decided on for this year's compilation. In our wisdom – the foursome have nearly 120 years' experience in IT and the channel between them – we opted for three main categories: Today's Influencers; Tomorrow's Influencers; and Young Turks. We thought it prudent that, in this day and age with the industry and the channel moving rapidly into the next stage of its evolution, other executives who could be instrumental in shaping this future warranted a mention. As always, our selections are totally subjective and based on our knowledge and insight into the individuals concerned, as well as the impact they and their companies wield on the channel.
For Today's Influencers, for example, the major factor in their selection is that on any given day, any one of these executives could make a decision and its results would send ripples throughout distribution, maybe even the industry. Neil Rex retiring … David Kan going on the acquisition trail … Pierre Spies firing a major vendor … that kind of thing. Tomorrow's Influencers? may not have the same weight as their influential counterparts, but are equally important in the channel going forward. These are the executives who are quite literally going to shape the future of the distribution channel. Whether it is moving into areas of technology previously avoided by the more traditional channel; restructuring and remodelling their companies to deal with what's coming down the line; or simply taking on more responsibility and gaining more experience, these executives, we think, will be vital cogs in tomorrow's channel.
And last, but not least, we have selected a number of what we describe as 'Young Turks', maybe less well known or experienced than their senior colleagues, but definitely earmarked for greater things. They are making waves in their respective positions now and we think they have a very good chance of one day progressing to the top ranks of influential channel executives. Perhaps not next year, but definitely sometime in the future.
Hopefully, the above has clarified just how we reached our various decisions on the individuals in the following pages. So, without any more fuss … here is Channelwise's Top Influencers for 2016.
Today's Influencers
Pierre Spies
CEO of Pinnacle Holdings
How many years have you been in the channel?
Effectively from the day I joined Tarsus, which I still remember to this day – 24 January 1992. Which would mean … wait for it … 25 years (in a couple of months). Can you believe it!
What are the main changes you have seen during this period?
Like the IT sector itself, the channel has evolved dramatically over the decades and we have seen multiple changes during this period. Arguably, the biggest change we've seen is that you now have to add a lot more value than ever before at a drastically reduced margin. Scary indeed.
How do you deal with unrealistic expectations from vendors?
In all my years in the channel, this seems to have been an ongoing battle. We have regular negotiations with our vendors to try and thrash out more realistic expectations – especially in the current economic conditions. More often than not, it all boils down to the sharing of meaningful information between us, the distributor, and the various vendors.
What's your view on the future of the channel in South Africa?
As competition gets more fierce and market conditions get tougher, I think we are likely to see more consolidation within the channel. We're also starting to see technology trends such as cloud computing and the Internet of Things (IoT) starting to make some impact on the channeI. Having said that, I still think the channel will be around for many years to come.
What is your diversification plan to cope with the industry's evolution?
At Pinnacle, we will continue with our drive of organic expansion and have moved into sectors such as renewable energy. We are also actively looking at off-shore expansion and acquisitions.
What is your best advice to current channel players?
The world is changing and changing fast. The market is tough and could well get tougher. My best advice would be that we all stick to the basics when it comes to conducting our various businesses. The evolution of our sector will continue and we all have to keep pace with it, which means migrating faster into value-added services and solutions.
David Kan
CEO of Mustek
How many years have you been in the channel?
Twenty nine – yes, nearly 30 – years.
What are the main changes you have seen during this period?
From NEC's V20 CPU all those years ago, to today's Intel Core i7, the technology we've grown up with has evolved rapidly. Going from PC performance to Network performance has re-defined the entire IT market.
How do you deal with unrealistic expectations from vendors?
Doing business is about give and take. To satisfy the unrealistic vendor, we will expect unrealistic return.
What's your view on the future of the channel in South Africa?
In order to survive and remain relevant, the channel needs to be able to continuously add value.
What is your best advice to current channel players?
Everybody needs to weigh up new options and think outside the box when it comes to new revenue streams and profit.
Neil Rex
MD of Drive Control Corporation
How many years have you been in the channel?
Memory fading fast, but I think 28 years.
What are the main changes you have seen during this period?
Again, if my memory serves me correctly, the most notable change in these years was with the dismantling of sanctions, which was the forerunner to the establishment of local offices by vendors. Prior to this, the distributor performed the role of the vendor. This included brand building, marketing, training, product evangelism and services and support. This also brought about a mass exodus of distribution stalwarts all attracted by the mighty dollar.
Other changes worth mentioning are the arrival of mass retail, the growing online sector, digital migration … and a couple of others that have faded with memory.
Obviously over 28 years, almost three decades, one requires more than a paragraph to list all the changes. Oh, for the days of the telex machine and telex operator …
How do you deal with unrealistic expectations from vendors?
Meeting unrealistic vendor expectations has never been a DCC speciality. I must note, however, that since the economic events of 2008 these quarterly discussions have become a lot more realistic. Maybe just a mature industry?
What's your view on the future of the channel in South Africa?
I am of the opinion that the channel is poised for dramatic change. Developments such as Pinnacle's 100% buyout of Datacentrix and the First Distribution/First Technology structure are definitely blurring the lines between reseller and distributor – or shall we call it what was traditionally known as the channel.
How these scenarios play out is the unknown. Will we see more distributors entering the reseller space via acquisitions, or more consolidation in the distribution space?
What is your diversification plan to cope with the industry's evolution?
We are looking at increasing our presence in the infrastructure space. This will allow for the opportunity to expand from both a value-add and services position. DCC has recently signed Citrix in pursuit of this objective.
Secondly, dependent on how the channel route to market develops, we will look at acquisitions in the new year.
What is your best advice to current channel players?
Build your business on what you can do for your customer/client.
Guy Whitcroft
CEO of Westcon Comstor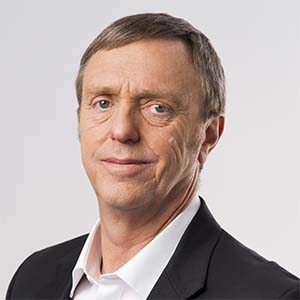 How many years have you been in the channel?
Since 1989 at Meertech. Although Siemens was sort of involved with the channel for some products, Meertech was my first "true" channel role, followed swiftly by HiPerformance Systems later that year.
What are the main changes you have seen during this period?
Where to start … certainly more sophisticated products, mass volumes one couldn't imagine in those days, but far lower margins. I well remember having to suggest to my MD in 1990 that we needed to drop the margin on one product to 20% to remain competitive and he was most concerned about such a low margin. Mind you, everyone was making decent margins in those days.
How do you deal with unrealistic expectations from vendors?
Negotiation. It happens on both sides, of course – not just vendors, but resellers and their end user customers, too. Everyone is obviously looking for the best deal. You need to listen to all parties and reach the best deal for all concerned.
What's your view on the future of the channel in South Africa?
Strong. Do you remember a certain now-channel-centric vendor whose motto in the mid-1990s was "Cut out the middle man"? The channel continues to evolve as the market moves. This is no different to any other industry. Some will do well, others not so much. You need to find your place in the market and ensure you deliver what your customers need. Needs change, but customers remain.
What is your diversification plan to cope with the industry's evolution?
Continue to listen to our customers and our suppliers and work hard to ensure we meet their changing needs.
What is your best advice to current channel players?
Listen to your customers – after all, they pay your salary. There's plenty of opportunity, it just changes shape sometimes. But if you listen to your customers, you'll find their pain-points and therein lies opportunity.
Anton Herbst
Head of Group Strategy, MB Technologies
How many years have you been in the channel?
Twenty four years
What are the main changes you have seen during this period?
In the past 24 years we have seen a tremendous increase in the price to performance ratios of just about all the components of what we call information technology today. This made access to information far more democratic than the plutocratic era of the mainframe and mini-computer environments. A channel emerged from the early 1990's that had very few of the pre-PC era in it. The channel kept on maturing, but the power was largely concentrated in the vendors' hands. A two-tier go-to-market evolved that was highly efficient in getting the latest technology to a waiting market. Demand outstripped supply and even with the Y2K challenges the market continued to grow at a healthy clip until 2009.
The ubiquitous availability of a myriad of technology solutions started to erode the power of the vendor and power started to concentrate in the hands of the end user. The advent of mobility, cloud, social and as-a-service business models provided an alternative to the classical capex heavy and budget driven business model. The enterprise customer market has consolidated rapidly on the back of virtualisation and made a two-tier model in this space unsustainable. Massive mainstream vendors started to react to these forces by either abdicating markets, refocusing on their core business or acquiring businesses to get to a full solution stack. Resellers in the enterprise space followed a similar trend on the back of increasing services revenues.
In the SMB channel, services played an even greater role and a whole set of new kinds of resellers were born. Ironically, these new types of resellers are better-suited to the emerging business models and they are mostly vendor agnostic. The points of demand have shifted from procurement and IT to a much bigger share for business ie. CXO where X≠I. Vendors, distributors and resellers alike are struggling to come to grips with the operation of two very different business models. Move too fast and the revenue and cash flow model falls apart – move too slow and you run the risk of irrelevance.
The whole channel is back in 1990 and going through a massive transition – business models, sales models, marketing, compensation models – are all up for review.
How do you deal with unrealistic expectations from vendors?
I don't think there are unrealistic expectations from vendors. It generally boils down to a misalignment of strategic objectives between vendor and distributor. This gets accentuated when we measure ourselves in rands and the vendor looks at US dollar growth. The volatility of the rand has meant that we could see rand growth while the vendor experiences US dollar declines. The current state of the market requires deep thinking and carefully crafted execution plans on a joint basis if we are going to bring the growth back in the core categories of the market. Partnerships have never been more important. The end user is now in control and unless we understand the job that they want done better, we will waste valuable resources trying long-in-the-tooth programmes for short-term gains.
What's your view on the future of the channel in South Africa?
The channel is vibrant, but no longer easily segmented into neat little boxes of small, medium and large. More and more, it is about customer insight and small customers could be very large consumers of services. The challenge is to build a business that can leverage the legacy and build more runway for it while you invest in the future. This is exceptionally tough and it will take lots of wisdom and collaboration. No one has all the answers.
What is your diversification plan to cope with the industry's evolution?
We are building a model that is taking into consideration all the challenges and opportunities that I mentioned before. What is coming at us is so much bigger than what we have seen so far. It is both exciting and scary, but it is not like we haven't experienced the thrill before.
What is your best advice to current channel players?
Remain curious, open-minded, ready to learn and unlearn, build adaptability and agility into your business, change who you are selling to and make sure that we take our people with us on this exciting journey. We are all dealing with change on a grand scale – from a technology point of view, but also from a socio-economic, political and personal point of view.
Tomorrow's Influencers
Arnold Sharp
CEO of First Technology Group
Industry veteran and patriarchal head of the First Technology Group which also includes Epsidon, First Distribution and now Phoenix Distribution, was one of the first in the local industry to recognise how important cloud computing would become in the channel. Two years ago, under his guidance, First Distribution launched one of the first white-box cloud products for resellers in the country – First for Cloud. At the time, Sharp was nervous and we well remember him asking us if he had "done the right thing" in investing millions in the project. Indeed he did, as subsequent uptake has shown. Now, though, Sharp appears to be guiding the group into its next phase of development which some say blurs the line between traditional distribution and reselling. Many in the channel are keenly watching his every move in a fast-evolving market and which could have a lasting affect on distribution in South Africa.
Jacques Malherbe
Chief Technology Officer at AxizWorkgroup
Regarded as one of the true visionaries in the channel, Malherbe was recently persuaded to take up the role of CTO for the group and forge its path for the future. Having started Advanced Technologies three years ago, he has been instrumental in building it into one of the leading enterprise distributors in South Africa. Long recognising the importance of the enterprise space and the services and solutions it requires, Malherbe will no doubt be instrumental in deciding what roles both AxizWorkgroup and Pinnacle play in the future channel. While there will still be room for volume distribution in the years to come, the enterprise is the market distributors are targeting. With Malherbe's advice and under his guidance, both group companies look set to thrive … and maintain their dominant positions.
Mark Lu
CEO of Corex
One of the shrewdest operators in the South African channel for decades, Mark Lu has not only maintained Corex's position as one of the country's leading components distributors, he has also been key over the past few years in making sure the group diversifies into markets that showed early promise – and are now set to boom. Reliable sources indicate that Lu has attracted some substantial foreign investment into the group and that expansion plans are in the pipeline for next year. Always a sound bell-weather for future trends and technologies, the local industry will be keeping a close eye on Lu to see what direction he takes the company – and perhaps the channel – in the next couple of years.
Craig Brunsden
MD of AxizWorkgroup
Barely a year into the job as the MD of AxizWorkgroup, Brunsden has already made his mark on the company he has worked for almost his entire adult life. A born and bred distributor, Brunsden has flourished under the mentorship of first Anthony Fitzhenry and, more recently, Arnold Fourie, Henry Ferreira and Pierre Spies. So much so, in fact, that sources indicate that this year, AxizWorkgroup contributed more to parent Pinnacle Holdings' bottom-line than any other group company. As he continues in his new role as MD and is given more control and responsibility over the day-to-day operations of the multi-billion rand company, few can doubt he will become a Top Influencer in the channel in his own right over the next couple of years.
Spencer Chen
MD of Rectron
Spencer Chen is another of the "next generation" channel executives that have worked their way, quite literally, through the ranks of distribution to secure the top position at the boardroom table. He only took over the reins at Rectron on 1 July but has, apparently, already made waves in the channel with certain price cuts on a number of products. He will have learnt the "art of trading" well from group boss and mentor, David Kan, who he spent a few years shadowing following stints for Mustek in Nigeria and Brazil – two of the toughest markets on the globe. Some speculate that his most recent actions are aimed mainly at announcing his presence to channel competitors and that as he settles into the job, he will initiate on more important future plans. Cloud computing and the Internet of Things (IoT) are two areas high on his list of priorities, and Chen has the strategic mindset to ensure successful implementation of these technology trends to secure the continued success of Rectron as a leading distributor.
Tim Humphreys-Davies
MD of Pinnacle
Tim Humphreys-Davies has been at Pinnacle for so long that many regard him as a permanent fixture. But in recent months, following a number of executive shuffles within the group and his appointment as MD of the renamed Pinnacle from Pinnacle Africa, he has blossomed as an executive leader having been given more responsibility and independence in his role. His, and the new exco's, handling of the latest "corruption" rumours around the company are a case in point. The rumours and innuendo was dealt with swiftly and, although there was a dip in the holding company's share price, it was a far cry from what was experienced during the Takalani Tshivhase case a few years back. Insiders say a revitalised and assertive Humphreys-Davies can now be considered one of a new breed of channel executive worth watching in the months and years to come.
Stefan Nel
MD of Sahara Computers
You'd have to have been living under a rock for the past few months not to know about the various controversies swirling around the Gupta family, the ultimate supremos of the Sahara Group. But through all the trials and tribulations, scandal and closed bank accounts, Stefan Nel has stoically ensured that one of the country's top distributors has continued operating – and operating pretty successfully. By all accounts, staff and creditors are being paid timeously by Sahara and it continues to do revenue of over a billion rand a year. The big question, however, is what the future holds for the distributor. The Guptas are on the record as stating they will be selling all their South African investments by the end of the year. Will Nel lead a management buyout of Sahara? Will it continue operating, albeit under new owners? All eyes in the channel will be on Nel and Sahara in coming months as we await the answers to these questions.
Graham Duxbury
CEO of Duxbury Networking
One of the most respected channel executives in the land, Graham Duxbury, when once asked of his opinion about a rival, famously replied: "I couldn't comment. Here at Duxbury we concentrate on our own business, not that of our competitors." It is a mantra that has stood him and Duxbury Networking in good stead through the decades as he and his team have built up one of the most solid, reliable specialist distributors in South Africa. So successful has the company been, in fact, that it is regarded by some of its larger counterparts as "the premium acquisition target". Today, as the hunger for mergers and acquisitions grows and the list of viable candidates shrinks, it can't be long before Duxbury is approached. But would he sell? And at what price? Again, there is little doubt in our minds that, as always, Graham Duxbury will continue to be an influencer in the channel … certainly for the foreseeable future.
Asgar Mohammed
MD of Esquire Technologies
When Asgar Mohammed and his brother Mohammed Cassim founded Esquire, it catered to the SME/consumer reseller. From the beginning the distributor did all the right things to help its particular target market: it opened on weekend,  pioneered the walk-in store concept for resellers and was arguably the first distributor to set up a virtual online infrastructure that lets partners have their own branded storefront that integrates directly with Esquire's stock, inventory, picking, ordering and billing systems. The brothers have also been quick to adapt to market changes: they launched a locally-manufactured tablets and have more recently transitioned their stock offering to offer more consumer electronics products, again reflecting changing market dynamics.
Alan Thompson
MD of Kolok
Traditionally known as a printer consumables distributor, Kolok has also seen the writing on the wall in terms of changing market forces and has evolved to ensure it stays relevant. The company has added to its stockholding to include other items that companies need. These items include: hardware and consumables; data media, office accessories and software; education solutions; paper; and office appliances, canteen and janitorial stock. Kolok has also invested extensively in its distribution infrastructure which includes a world-class automated technology backbone and sophisticated warehouse system that enables superior stock holding, delivery and turnaround time.
The Young Turks
Leanne Hannigan
Cloud business lead at Westcon
Cloud computing is the new way of doing business – and could well become the new way that distribution happens in the next few years. Leanne is running the software and cloud business unit at Westcon, and is actively encouraging resellers – and vendors – to look at using cloud infrastructure not only as a product in terms of infrastructure as a service, platform as a service and software as a service, but also as the delivery and management solution itself. She has launched Westcon's BlueSky cloud platform to local resellers, and envisages it becoming the group's primary go-to-market channel in the future.
Elaine Wang
Microsoft and cloud lead at Rectron
As cloud quickly permeates through organisations as the preferred platform for doing business, and the actual delivery of software rapidly becomes more cloud-based, the software and cloud business units of all the distributors are probably going to become more strategic going forward. So keep an eye out for Elaine, who set up the cloud business at Rectron and runs it so ably it is a regular winner of accolades from Microsoft.
Jonathan Kropf
CEO of Tarsus Cloud on Demand
Tarsus Cloud on Demand goes beyond what most of the other distributors are offering in terms of cloud computing. The company is a cloud vendor and hybrid cloud enablement partner, enabling a platform, complementary applications and solutions to help resellers and end users embrace the benefits of cloud technology. Cloud on Demand was acquired by the MB Technologies Group (now Tarsus Group) in 2014. Jonathan has led the company since its inception and continues to be a driver behind the cloud strategy at Tarsus.
Andrew Moodley
Executive: Security and Services at AxizWorkgroup
Andrew was one of the first key recruits Jacques Malherbe signed up when he started Advanced Technologies within the Pinnacle Group and has been instrumental in helping to establish and build it into the formidable enterprise distributor it has become. Often regarded as Malherbe's right-hand man, recent moves at the group have seen him extend his portfolio and take on more responsibility in the day-to-day running of the company. Definitely earmarked and being mentored for bigger things in the future.
Ryan Martyn
Founder and sales and marketing director of Syntech SA
Ryan is almost synonymous with Syntech, a distributor that he has built from the ground up. Ryan studied a BCom in Information Systems at UCT and co-founded Syntech with Shirley Martyn while he was studying. He went on to build the business focused on delivering value-added products and solutions to niche markets. He is regarded as an expert on storage and data workflows for the film and media industry and works closely with resellers to develop and implement solutions into this market.