Zebra Technologies has introduced the ET80 and ET85 (ET8x series), a new series of Windows 12-inch rugged tablets and 2-in-1s.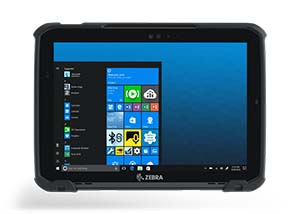 The thin and light ET80 and ET85, which run on Intel 11th Generation processors, are a portable option in the field and can be purchased with a detached rugged keyboard featuring a friction hinge so front-line workers can experience a complete laptop-like experience on the go, in their vehicles or at their desks.
With support for citizens broadband radio service (CBRS), companies can enable private LTE networks that provide cost-effective wireless connectivity in the largest facilities – indoors and outside.
For public safety and state and local government agencies, Zebra's tablets and 2-in-1s enable routing and dispatch communications, patient care reporting, e-citation and personnel tracking. For field service including utility workers, in addition to routing and dispatch communications, the devices can be used for mobile work order management, safety inspection and compliance, and remote assistance. On the manufacturing plant floor, they help improve quality assurance and forklift operations, as well as maintenance and repair workflows.
Zebra's new series of tablets and 2-in-1s can function as a standalone tablet or a true laptop replacement and provide support in even the most rugged environments. At less than 2.9 pounds and with an optional detachable rugged keyboard, the new ET8x series offers a flexible work option that can transform into a desktop in the office or a mobile workstation in a police car, truck, or forklift. The ET80 and ET85 also offer a longer battery life than previous models, reducing time spent recharging or switching to back up devices, further improving productivity and reducing downtime.