The OKI C650dn is available from official distributor, Drive Control Corporation (DCC).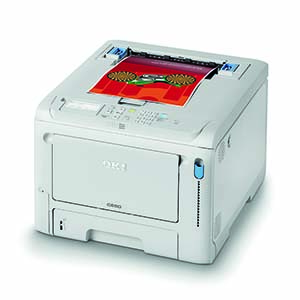 The OKI C650dn printer combines speed, quality, reliability and ROI, measuring just 290mm high x 395mm wide x 430mm deep.
It is powered by LED technology and prints up to 35 ppm on media from as light as 60gsm up to 256gsm and from B8 (62 x 88mm) up to 1,32m long.  It can print on a variety of promotional UV- and tear-resistant materials.
The OKI C650dn offers the following features:
A4 print speed- 35 ppm colour/mono;
Resolution – 1200 x 1200 dpi;
Time to first print – 6.5 seconds colour/mono;
Warm up time – less than 20 seconds from power on and less 11 seconds from power save;
Connectivity – standard: 10/100/1000 Base Ethernet and optional wireless 802.11abgn;
Paper capacity – Tray 1: 250 sheets of 80gsm; and multi-purpose tray: 100 sheets of 80gsm;
Paper capacity optional trays; and ray 2: 530 sheets of 80gsm, tray 3: 530 sheets of 80gsm, tray 4: 530 sheets of 80gsm;
Paper output – 150 sheets face down and 100 sheets face up.
The OKI C650d ships with a three-year warranty upon registration.