Featuring LG's advanced OLED panel, the new G2 series models feature OLED evo technology in both G2 and select C2 series to deliver higher brightness.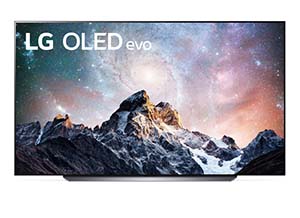 Powered by LG's new α (Alpha) 9 Gen 5 intelligent processor, the company's Brightness Booster technology enables G2 series TVs to deliver more brightness through improved heat dissipation and a more advanced algorithm.
LG's 2022 G2 series introduces a new 83-inch model and the world's first 97-inch OLED model to complement the 55-, 65- and 77-inch TVs already in the lineup.
The LG G2 series delivers a refined design with its attractive flush-to-the-wall Gallery Design.
LG's C2 series offers the most diverse selection of screen sizes with a total of six for 2022. This OLED TV series features thinner bezels for a more immersive viewing experience in addition to giving the TV a sleeker design.
At the heart of most of LG's new TV models, the α 9 Gen 5 leverages deep learning to enhance upscaling performance and give onscreen images a more three-dimensional quality by making foreground and background elements more distinct from one another.
The latest version of LG's Smart TV platform include webOS 22 personal profiles. NFC Magic Tap can be used to mirror a mobile device screen to an LG TV.  Viewers can also mirror content from one TV to another in the home using Room To Room Share.
Always Ready turns an LG TV into a media display when not in use.
The panels found in the 2022 OLED lineups have been certified by global product testing agency Intertek for 100% colour fidelity and 100% colour volume.
LG customers can easily select and switch between game-specific features and display presets directly from the TV's Game Optimizer menu, which provides quick access to the new Dark Room Mode which has settings for G-SYNC Compatible, FreeSync Premium and variable refresh rate (VRR).