Logitech  is creating more equitable experiences for hybrid workers with RightSight 2 software that now simultaneously presents both a close-up view of the individual speaker and a view of the entire meeting room during video calls.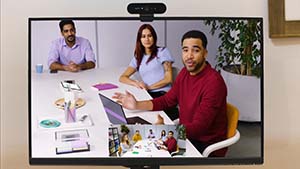 With RightSight 2 auto-framing technology, far-end participants can follow the active speaker while also getting situational context from the group, such as one person gesturing to another or writing on a whiteboard.
RightSight 2 combines audio and video intelligence to detect people's placement in the room and the location of their voices. Speaker View is a new mode that uses the two-camera system in Rally Bar and Rally Bar Mini to render a picture-in-picture view of the active speaker and the whole group.
IT admins have the flexibility to toggle between Speaker View and Group View (RightSight's original implementation of auto-framing) to best suit their teams.
RightSight 2's Speaker View is compatible with all of Logitech's major cloud video conferencing partners.