RS Components has launched LEDvance Smart Home+: a range of voice or app controlled smart lighting products that can transform a residential home or hospitality venue by providing total control over lighting levels, inside and outside the property.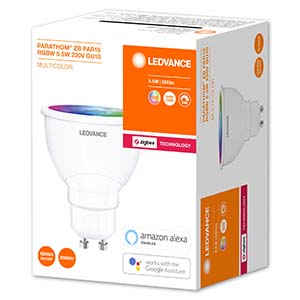 LEDvance Smart Home+ gives electrical installers the opportunity to offer customers an effortless means of controlling light levels and colours.
LEDvance Smart Home+ allows users to switch, dim, and personalise their lights using a smartphone or voice command. The smartphone option means that lighting can be controlled remotely: for instance, to switch on external lights as they approach home, or to alter internal lighting while on holiday so that the house does not appear empty.
Lighting routines can be established to suit daily routines or created for special events.
The system is compatible with WiFi, Bluetooth or Zigbee networks, enabling hundreds of smart lighting devices to be synchronised using a tap or a word. Commands can be relayed via the customer's choice of platform, so their smart lighting preferences can be achieved via Google Assistant, Amazon Alexa Echo or Apple Siri.