Fujitsu has debuted its next-generation quad-socket Primergy RX4770 M6 server that can tackle even the highest demands from workloads.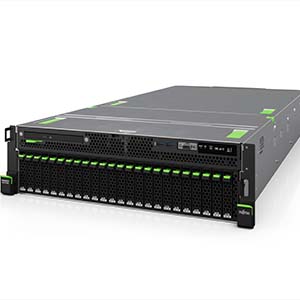 The server is powered by four new 3rd Generation Intel Xeon Scalable processors with built-in AI acceleration through Intel Deep Learning Boost, and optimised for the fastest RAM memory available – the Intel Optane persistent memory 200 series.
A new system design also packs up to 112 cores per system into the 3U form factor; provides fast, high-capacity and cost-effective memory for large data sets with up to 48 DIMM modules, including 24 in Intel Optane persistent memory, applications run faster.
Fujitsu has also doubled the Intel Ultra Path Interconnect (UPI) connectivity of the new-generation servers with six Intel UPI.
The server's new flexible drive cage design supports up to 24 2,5-inch SAS/SATA/NVME storage drives. Built-in expandability for future business requirements and extra input/output bandwidth is ensured thanks to a total of 11 PCIe 3.0 expansion slots and a dynamic onboard LAN controller (DynamicLoM) with OCP 3.0 interfaces. The Primergy RX4770 M6 also supports two double-width, full-length GPGPU modules to support deep learning.
Cost effective, easy server administration and remote lifecycle management are provided with Fujitsu integrated Remote Management Controller (iRMC S5), while the Fujitsu Software Infrastructure Manager (ISM) ensures centralised control via a single interface for entire data center infrastructures including servers, storage, networking, power and cooling.