The recently launched, new-generation Fujitsu Server Primergy RX4770 M6 has set new world records for performance.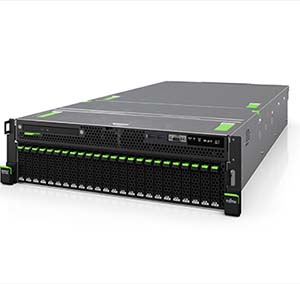 Its processing power is verified both for demanding in-memory environments with the SAP BW edition for SAP HANA benchmark1and for large-scale virtual infrastructures with VMware's VMmark benchmark.
In an SAP standard application benchmark using SAP HANA databases and processing 7,8-billion initial records, the Primergy RX4770 M6 achieved top results across the board for the fastest data load, the highest number of query executions per hour, and the shortest runtime for complex query phases.
The quad-socket server also attained the world-record scores in VMware's VMmark virtualisation benchmark out of all matched-pair four-socket server results. The Primergy RX4770 M6 achieved the top VMmark 3.x results among all other matched-pair 4-socket servers as of 22 October 2020.
The Fujitsu Primergy RX4770 M6 is a 3U quad-socket server that harnesses the AI acceleration features of new, third-generation Intel Xeon Scalable processors and Intel Optane persistent memory technology.
Completely redesigned, it delivers exceptional performance and simple administration in a cost-effective form factor, allowing organizations to speed up even the most demanding applications, derive maximum value from their data, and accelerate their business transformation.
Fujitsu has integrated Intel Platform Firmware Resilience (PFR) into the Primergy RX4770 M6. PFR helps to protect platform firmware, detect firmware corruption, and restore the server to its last-known-good state if malware is detected.