Fortinet has unveiled the FortiGate 1800F Next-Generation Firewall (NGFW) powered by NP7, the company's seventh generation network processor.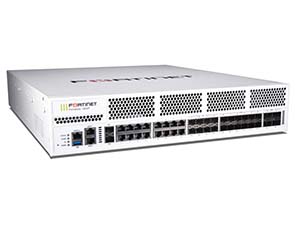 Fortinet's FortiGate 1800F NGFW is engineered for large enterprises to quickly and securely drive digital innovation by offering capabilities to meet the huge capacity and performance demands of critical business operations such as:
Managing Internal Security Risks: With multiple high speed 40G interfaces and threat protection performance with a Security Compute Rating of 3x, FortiGate 1800F enables enterprises to properly segment their network to manage internal security risks. Additionally, FortiGate 1800F intelligently adapts to segmented users, devices, and applications – regardless of their location, whether on-premise or in multiple clouds – providing automated threat detection and enforcement.
Accelerating the Cloud On-Ramp: FortiGate 1800F offers the highest Security Compute Rating of 14x for IPsec encryption when benchmarked against competitors, enabling the required speed, scale, and availability organisations need when on-ramping to the cloud.
Removing Blind Spots: With as much as 60% of encrypted traffic containing malware, SSL inspection performance has become critical to properly secure the network. FortiGate 1800F offers the industry's highest SSL inspection performance with a Security Compute Rating of 20x, as well as support for the industry's latest TLS 1.3 standard, to eliminate network blind spots by enabling full visibility of clear-text and encrypted network flows.
Securing Services Across Hybrid Architectures: The FortiGate 1800F's hardware-accelerated Virtual Extension LAN (VXLAN) feature enables massively scalable, adaptable internal segmentation and allows super-fast communication between enormously scaled services, such as compute, storage, and applications that are co-hosted on physical and virtual platforms. This allows organisations that leverage a highly scalable virtual services architecture to launch services and applications in the most agile fashion possible to increase productivity and revenue opportunities.
Enabling Secure Advanced Research: The performance capabilities of FortiGate 1800F allow research organisations to perform big data analysis and natural language processing at unprecedented speeds where a single elephant flow can reach up to 40Gbps. Just as important, with FortiGate 1800F NGFWs, these elephant flows are secured using high-performance encryption to ensure privacy and compliance.