Exceptional racing drivers never fail to make an early impression. From the moment they first take the wheel – in any category – their unique talents are evident.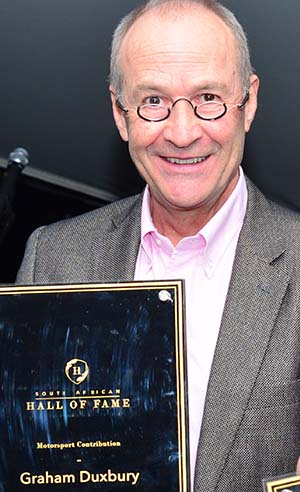 By Graham Duxbury
For example, when Ayrton da Silva first came to the UK from his native Brazil to race in the Formula Ford series, he was immediately on lap-record pace in testing – to the astonishment of the team running him.
After dropping the "Da Silva" and adopting his mother's maiden name, Ayrton Senna would go on to win three Formula One World Championship titles and be voted by BBC sports journalists as "the greatest F1 driver of all time".
Many top-rated drivers have secured their place in F1 at short notice due to the incapacity or unavailability of a fellow competitor. Often, they had only this single opportunity to impress and be noticed.
Jackie Stewart, who would also become a three-time F1 champion, sat in a F1 car – a works Lotus 25 – in anger for the first time at the 1964 Rand Grand Prix at Kyalami. He gained his place due to the absence of Lotus' lead driver, fellow scot Jim Clark.
Clark, the 1963 World Champion, was incapacitated, having put his back out throwing a snowball while partying at Cortina d'Ampezzo. He was invited to the ski resort in northern Italy by Ford to celebrate his win in the 1964 British Touring Car Championship.
Clark was accompanied by other title holders who had achieved successes in the iconic Ford Cortina, including Koos Swanepoel who won the inaugural South African Saloon Car title in 1964.
At Kyalami, Stewart qualified on pole position, ahead of more experienced competitors including teammate Mike Spence and future teammate Graham Hill.
However, never having made a start in a racer more powerful than a F3 car before, Stewart's enthusiastic get-away in the event's first heat resulted in a broken drive shaft and immediate retirement.
Nothing daunted, he made amends in the second heat, winning impressively. Less than a year later he celebrated his first F1 World Championship win at the 1965 Italian GP driving alongside Hill at BRM.
Michael Schumacher, then recognised as a talented sports car driver, got his chance to make the leap into a F1 car at the 1991 Belgian GP at Spa. He was called up to replace regular Jordan team driver Bertrand Gachot who was incarcerated in London, serving a two-month prison sentence as a result of an altercation with a taxi driver.
While Senna qualified on pole, Schumacher (who had just 20 laps of the small Silverstone south circuit with which to familiarise himself with a F1 car) put in an exceptional performance to claim seventh place on the grid.
Unfortunately, Schumacher's race lasted only a few hundred metres, because, like Stewart at Kyalami, he was unfamiliar with the power of his machine, being accustomed to the rolling starts of sportscars. An enthusiastic start had burnt out the clutch on the drag off the line.
Appropriately, just 12 months later, Schumacher would claim his first F1 win at Spa and, 13 years later at the same track, the German would clinch a record seventh world title.
Jean Alesi, who would go on to be a formidable competitor at Ferrari, was called up mid-season to race for Tyrrell at the 1989 French GP. He replaced Michele Alboreto whose personal sponsorship deal with Marlboro cigarettes clashed with Tyrrell's new backing from rival tobacco brand Camel.
Alesi, whose single-seater experience was limited to F3000 cars, qualified only 16th, but worked his way up to second place in the race, finishing an impressive fourth. This cemented Alesi's place in the team – he was given an 18-month contract – and established him as a talent of the future.
In 1990, after only eight F1 starts, he led the US GP for 25 laps ahead of Senna and claimed impressive second places at Phoenix and Monaco.
His successes attracted the attention of other teams who began clamouring for his services in 1991. A confused situation ensued, with Tyrrell, Williams and Ferrari all claiming to have signed him. Ferrari won the dispute, but only after paying Williams "a fine" of $4-million.
Alesi's sensational debut in France in 1989 became connected to a peculiar twist of fate. Soon after, Alboreto would sever ties with Marlboro and land up driving for the Larrousse Lamborghini team which was, ironically, sponsored by Camel cigarettes.
Graham Duxbury is a former professional racing driver, celebrated SA champion and acclaimed motorsport administrator and commentator. A South African Hall of Fame inductee, he made history in 1984 by winning the famous Daytona 24-hour sports car race in the US in an all-South African team. Today, he heads Duxbury Networking.