The EF-100W/B is Epson's smallest laser projector, measuring just 23cm along its longest edge.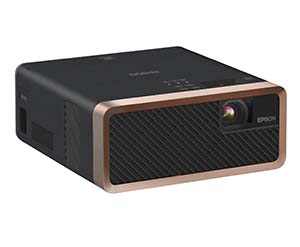 By using a laser light source and locating the vents and power inlet on the side, the EF-100W/B is compact and can be placed and project in any direction. Even in daylight, the laser light source delivers a bright and vibrant picture. Additionally, skew and distorted images can be avoided by using the auto picture adjustment feature.
Offering a long-term and maintenance-free solution, the laser light source lasts up to 20 000 hours. This provides great value for money as it allows the projector to be used every day for 10 years.
The EF-100W/B offers a swift and simple set-up, while the remote makes it easy to navigate the user-friendly interface.
Accessing content from a phone, tablet, DVD player, games console or laptop is easy by inserting a cable into the HDMI port. Streaming content is simple too – devices such as Amazon Fire TV, Google Chromecast, Roku and Apple TV can be plugged in the back.
The plug and play design also incorporates flexible options for sound: built-in speakers, Bluetooth connectivity for sound bars or a headphone jack. There's also a sound mode to reflect the type of content being shown.