CPT Cirprotec, which provides lightning and overvoltage protection devices, is distributed locally by ElectroMechanica (EM).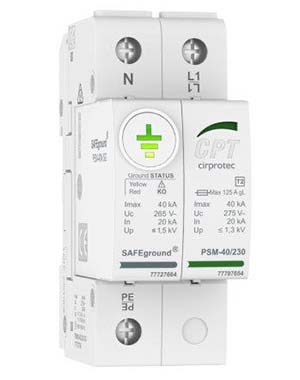 Solutions are available for a range of industries, from transportation to energy, water treatment, commercial buildings, data centres, and industrial and residential installations.
Products include modular plug-in Type 2 and combined Type 1 and 2 surge-protection devices.
The latest developments available from EM include the SafeGround range, a protection device that, in addition to indicating it is properly wired, guarantees an adequate path to ground.
The unit can also indicate, depending on the colour and flashing sequence, whether the installation is permanent undervoltage (<195 V), permanent overvoltage (>275 V), or high potential neutral ground.