The C6N and C1C-B cameras are two Ezviz products that drive safety and security in smart homes.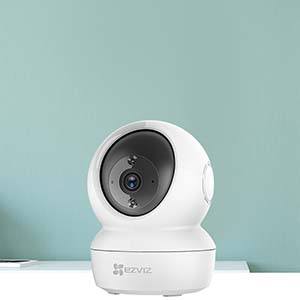 The C6N uses a smart IR function that features advanced infrared lighting to capture more details in low light.
With the motion pan-tilted rotational feature, it is able to cover 360 degrees, making it easier for the user to have a full view of their monitored space.
The C1C-B allows for a 108-degree wide-angle view that covers a specific area in which a user wishes to have monitored or recorded.
Both the C6N and C1C-B boast installation options.
The C1C-B features a magnetic base and mounting kit, making it easy to install it. It could either be used to attach to any magnetic surface, or much like the C6N camera, the user is able to simply attach the camera on to a wall or ceiling.
THe C6N includes smart night mode, with smart IR and able to work with low light.The intensity of the infrared LEDs automatically adjusts to prevent overexposure in night vision mode.
Both C6N and C1C-B feature motion tracking, sending the user an alert with an image in real-time.
Users can enable two-way communication.
The devices connect to WiFi and include convenient storage solutions.
Both cameras have MicroSD slots installed with a max space of 256Gb for recordings, while users can save images by making use of the EZVIZ Cloudplay.